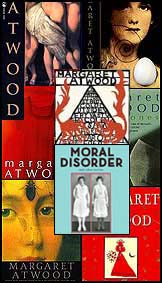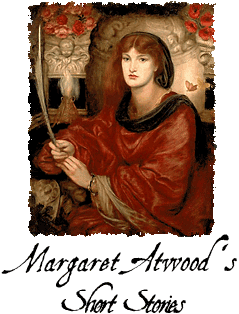 Margaret Atwood's Short Stories


Margaret Atwood's short stories are worlds unto themselves. Ranging from brief verse poems to short novellas, they all bear her trademark complexities of character, situations which are rarely simple, relationships which are at times healing, at times hurtful, and the emotional journeys people must make to effect either change or resolution.


Margaret Atwood Short Story Collections:
(Click on individual works for study pages)


Dancing Girls;
McClelland & Stewart, S&S, 1977; Cape, 1979.




Murder in the Dark;
Coach House Press, 1983.




Bluebeard's Egg;
McClelland & Stewart, 1983; Houghton Mifflin, 1985.




Wilderness Tips;
McClelland & Stewart, 1991; Doubleday, 1991; Bloomsbury, 1991.




Good Bones;
Coach House Press, 1992; Bloomsbury, 1992; Doubleday, 1994.




Good Bones and Simple Murders;
Doubleday, 1994; Wheeler, 1995.




The Tent;
Bloomsbury 2006; Nan A. Talese / Doubleday 2006; McClelland & Stewart 2006.




Moral Disorder; Nan A. Talese, 2006.



Additionally, Margaret Atwood's short stories have appeared
in Tamarack Review, Alphabet, Harper's, CBC Anthology, Ms.,
Saturday Night, and many other magazines.


| | |
| --- | --- |
| | to Margaret Atwood |



Luminarium Copyright ©1996-2007 Anniina Jokinen. All Rights Reserved.
Book cover images remain under the copyright of their respective copyright owners.
This page created on December 18, 2006 by Anniina Jokinen. Last updated January 3, 2007.

About this Website | Luminarium Privacy Statement.

Margaret Atwood has gone on to become not just
a major Canadian Writer, and a woman writer (whom some would call a Feminist Writer),
but an award-winning author of English literature. Her works include novels,
short stories, poetry, etc.