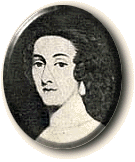 by Phil Brantingham



Dorothy Osborne's sole literary remains consist of a slim book of 77 letters written to her husband-to-be, Sir William Temple, during their courtship, plus 9 letters written after their marriage. Slight as the subject would seem to be, the letters are brilliantly written and show a flair for self-examination. They form almost a novel in themselves, and subsequent readers have found them both fascinating and stylistically charming.
Dorothy Osborne was born in 1627 to Sir Peter Osborne and his wife Dorothy (née Danvers). Sir Peter was the last royalist holdout, until the parliamentary troops of the Puritan government forced him to surrender his fortress. Following his surrender, the Osbornes returned to their estate at Chicksands, where they lived in conditions close to penury until the Restoration.
Dorothy Osborne met Sir William Temple in 1648, as he was on his way to France. They were attracted to each other, and Temple joined the family party as it went to France. A correspondence ensued. That the two families did not approve of an alliance between the lovers made their correspondence all the more titillating, being secretly carried back and forth by various servants. When it seemed that the lovers were to be married at last, Dorothy contracted smallpox, which not only disfigured her, but caused a delay to the wedding. The two were married on Christmas Day, 1654.
The letters that have survived begin in 1652 and end in October 1654 (none of the Osborne letters are specifically dated and the present dating has been established by editors. As for the letters written during the marriage, most editors have given up trying to date them).
Moor Park was a meeting place for important people from the court and government, and Lady Temple was the hostess to many officials from London. Yet there is little to no mention of her in contemporary writing. Not even Swift makes much mention of her in his work. She died February 7, 1695, leaving behind a legacy that was not fully appreciated until the first appearance of her letters in a scholarly format, edited by Sir Edward Parry. The most recent edition was edited by Kenneth Parker (Penguin, 1987). Lord David Cecil's essay on Dorothy Osborne in his Two Quiet Lives (1948) is helpful in understanding the situation of the lovers.



Bibliography:

Parry, Edward Abbott, ed. The Letters of Dorothy Osborne to Sir William Temple.
London: The Wayfarers Library, 1914.
Final printing of Parry's enlarged edition.

Hart, Kingsley, ed. The Letters of Dorothy Osborne to Sir William Temple.
London: The Folio Society, 1968.

Parker, Kenneth, ed. Letters to Sir William Temple by Dorothy Osborne.
London: Penguin Books, 1987.

Woodbridge, Homer E. Sir William Temple. The Man and His Work.
London: Oxford University Press, 1940.

Cecil, David. Two Quiet Lives.
London: Constable, 1948.
The lives of Dorothy Osborne and Thomas Gray.


Critical:

Woolf, Virginia. "Dorothy Osborne and her 'Letters'." The Common Reader.
New York: Harcourt, Brace. Combined edition, 1948.





| | |
| --- | --- |
| | to Dorothy Osborne |


D. Osborne | Life | Works | Links | Essays | Books | 17th C. Eng. Lit.




Text ©1999 Phil Brantingham. All Rights Reserved.
Published by Luminarium through express written permission of the author.

Site copyright ©1996-2006 Anniina Jokinen. All Rights Reserved.
Page created by Anniina Jokinen on August 5, 1999. Last updated June 8, 2006.