Study Resources for Robert Louis Stevenson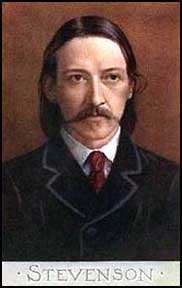 Robert Louis Stevenson Sites
The Robert Louis Stevenson Site - Richard Drury
Robert Louis Stevenson - National Library of Scotland


Biographies
Biography - Columbia Encyclopedia
Life and Works Outline - Richard Drury
Biography - Literary Encyclopedia
Biography - NNDB
Biography - Kuusankoski Library
Biography - Andreas Teuber
Biography - Jenny Calder
Biography en español - Universidad de Chile


Images
Several images in Biography
Portrait of Stevenson Aged 35
Portrait of Stevenson Aged 43
Robert Louis Stevenson's Birthplace
Note found among Stevenson's Papers after his Death
Stevenson Portrait Art Print
Portraits - National Portrait Gallery, London
Numerous Images - National Library of Scotland
Images - Richard Drury
Robert Louis Stevenson Exhibition - University of South Carolina
Robert Louis Stevenson Stamps - Trussel.com
Stevenson's Tomb - FindAGrave.com


Bibliographies
Stevenson Bibliographies - Richard Drury


Miscellaneous
The RLS Club
Stevenson Society of America
Robert Louis Stevenson Cottage. NY, USA
Robert Louis Stevenson Silverado Museum. CA, USA
Robert Louis Stevenson's Critical Reception - Richard Drury
Critical and Miscellaneous Prose: R. L. Stevenson - Hugh Walker
SAC LitWeb RLS Page - Roger Blackwell Bailey




Luminarium ©1996-2007 Anniina Jokinen. All rights reserved.
This page created on 12 May 2007 by Anniina Jokinen.