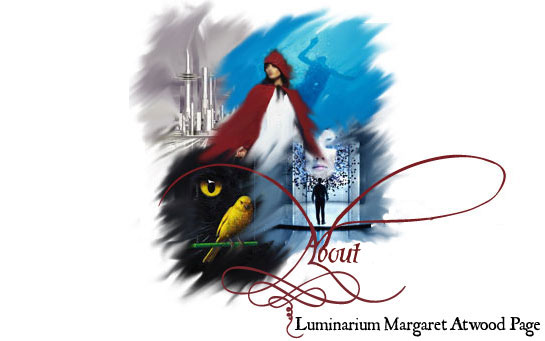 About the Luminarium Margaret Atwood Page


These pages are part of the Contemporary Woman Writers section of the larger literature site Luminarium. Luminarium is the labor of love of Anniina Jokinen. The Luminarium Margaret Atwood Page was created to make sense of the chaos of web links available at the various search engines on the internet, because of the editor's respect and passion for the writings of Margaret Atwood. It is hoped that the website will provide a helpful starting point for those reading Atwood's books either for pleasure, or as students of literature. For more information on the Luminarium site and its history, please see
"A Letter from the Editor." For more on the editor, please see the brief background for Anniina Jokinen.

This site contains hundreds of links to materials. While the site is regularly updated and maintained for quality and accuracy of materials, Luminarium cannot be held accountable for materials residing off-site. Please report all errors and omissions, questions, concerns, or praises to the site editor, Anniina Jokinen, by email at anniina@luminarium.org.





| | |
| --- | --- |
| | to Margaret Atwood |




Luminarium Copyright ©1996-2007 Anniina Jokinen. All Rights Reserved.
This page created on December 18, 2006 by Anniina Jokinen. Last updated January 3, 2007.

About this Website | Luminarium Privacy Statement.