"He was the rarest poet and Grecian
that any one age or nation produced."
—Wood, Athenæ Oxoniensis, Vol 1, Fast. 144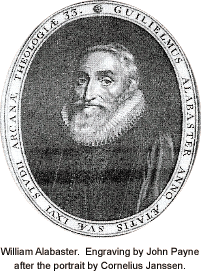 William Alabaster, or Alablaster, was born at Hadleigh, Suffolk in 1567. He was educated at Hadleigh grammar school, Westminster School and Trinity College, Cambridge, which he entered as a scholar in 1584. He took his B.A. in 1587, and M.A. in 1591. In 1592 he was incorporated of the University of Oxford.1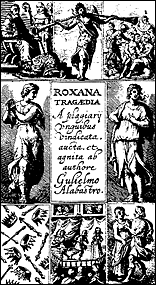 While at Cambridge, Alabaster wrote Roxana, a Senecan tragedy in Latin, in 1592. It was performed at Trinity soon after to great enthusiasm. Forty years after its first performance, it was still esteemed highly enough to warrant an unauthorized publication, in 1632. Full of errors, this induced Alabaster to publish an authorized edition later in the same year. Johnson, in his Lives of the Poets, says, in reference to "Latin verses with classic elegance": "If we produced any thing worthy of notice before the elegies of Milton, it was perhaps Alabaster's Roxana.2

After the success of Roxana, Alabaster turned to poetical pursuits. He began an epic poem in Latin, Eliseis (or Elisæis), which glorified Elizabeth I. It was not published in his lifetime, but the manuscript was widely circulated. Alabaster's friend, Edmund Spenser, praised him for it in his Colin Clouts Come Home Again (1592):


"And there is Alabaster thoroughly taught
In all this skill, though knowen yet to few;
Yet, were he knowne to Cynthia as he ought,
His Elisëis would be redde anew.
Who lives that can match that heroick song,
Which he hath of that mightie Princesse made?
(ll.400-5)


Eliseis still exists among the manuscripts of Emmanuel College, Cambridge.

In 1596, Alabaster accompanied the Earl of Essex as Chaplain on the expedition to Cadiz. Shortly after, he converted to Catholicism, and attempted to convert Essex. Upon his return to England, he was briefly imprisoned in the Clink (a prison in Southwark). As was typical of the times, Alabaster renounced his Catholicism and returned to Anglicanism.

Following his reconversion, Alabaster gained favor with King James. He was created Doctor of Divinity at Cambridge by royal command in 1614, made a prebendary of St. Paul's, and given the living of Therfield, Hertfordshire. He was also admitted to Gray's Inn in 1618, and acted as a chaplain to the King. Soon after, Alabaster married Catherine Fludd and received the firstfruits of the parish of Little Shelford, Cambridgeshire.

Alabaster began a series of mystical and cabbalistic writings with Tractatus in Revelationem Jesu Christi modo Cabalistico explicatam in 1602. This was followed in 1607 by Apparatus in Revelationem Jesu Christi.He published further theological works, including Tractatus de Bestia Apocaliptica (Delft, 1621) and Spiraculum Tubarum, n.d. Ecce Sponsus Venit (1633). He was regarded with admiration by his contemporaries, as can be seen from the lines addressed to him by the poet Robert Herrick.

In 1637, Alabaster published his Lexicon Pentaglotton Hebraicum, a work which had occupied him for many years, and which was received with accolades from other scholars. Alabaster also wrote metaphysical devotional poems in Latin and in English, few of which survive, and which were not printed in his lifetime. He died in his 74th year, in April, 1640.




1 Drake, Nathan. Noontide Leisure, vol 1. London: T. Cadell, 1824. 224.
2 Johnson, Samuel. The Lives of the English Poets. London: R. Dodsley, 1795. 139.


---

Article Citation:

Jokinen, Anniina. "William Alabaster." Luminarium.
28 Mar 2010. [Date when you accessed the page]. <http://www.luminarium.org/sevenlit/alabaster/alabasterbio.htm>


---

Alabaster | Works | Links | Essays | Books | Religious Writers | 17th-c.Literature




| | |
| --- | --- |
| | to William Alabaster |



Site copyright ©1996-2010 Anniina Jokinen. All Rights Reserved.
Created by Anniina Jokinen on February 19, 2002. Last updated March 28, 2010.

Portrait Courtesy of The Philological Museum.