| | |
| --- | --- |
| | Earl of Rochester |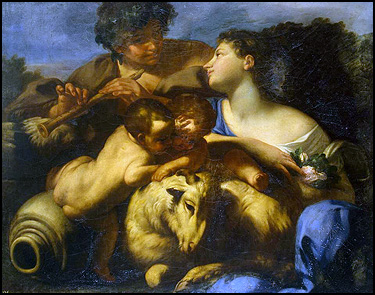 S O N G.



N Y M P H.


Injurious Charmer of my vanquish'd Heart,
Canst thou feel Love, and yet no Pity know?
Since of my self from thee I cannot part,
Invent some gentle way to let me go.
For what with Joy thou didst obtain,
And I with more did give;
In time will make thee false and vain,
And me unfit to live.



S H E P H E R D.


Frail Angel, that wou'dst leave a Heart forlorn,
With vain Pretence Falshood therein might lye;
Seek not to cast wild shadows o'er your Scorn,
You cannot sooner change than I can die.
To tedious life I'll never fall,
Thrown from thy dear lov'd Breast;
He merits not to live at all,
Who cares to live unblest.



C H O R U S.


Then let our flaming Hearts be join'd;
While in that sacred Fire,
E'er thou prove false, or I unkind,
Together both expire.


---

Rochester, John Wilmot, Earl of. "Valentinian: A Tragedy."
The Works of John Earl of Rochester.
London: Jacob Tonson, 1714. 255.


---
Site copyright ©1996-2012 Anniina Jokinen. All Rights Reserved.
Page created by Anniina Jokinen on September 17, 2012.