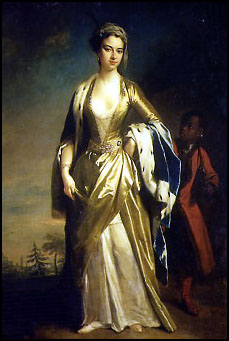 ---

Excerpted from:
"Lady Mary Wortley Montague." The Penny Cyclopedia. Vol XV.
London: Charles Knight & Co., 1839. 351-2.


---


MONTAGU, LADY MARY WORTLEY, by birth Lady Mary Pierrepoint, was the eldest daughter of Evelyn earl of Kingston (afterwards marquis of Dorchester, finally duke of Kingston), by his wife the lady Mary Fielding, daughter of William earl of Denbigh, and was born at her father's seat of Thoresby in Nottinghamshire, about the year 1690. Displaying great attractions of person as well as sprightliness of mind from her earliest years, she was the favourite and pride of her father, who, having lost his wife in 1694, and continuing a widower, introduced his daughter to society, and made her preside at his table, almost before she had well outgrown her childhood. It does hot appear however that there is any truth in the common account of his taking pains to have her talents cultivated by a learned education. What Latin she knew she seems to have acquired of her own accord; and there is no reason to suppose that she ever studied Greek, a translation made by her, when a girl, of the [Enchiridion] of Epictetus, which has been referred to as a proof of her knowledge of that language, having been in fact made from the Latin. She was at least, however, an eager reader of whatever fell in her way in her mother-tongue.

In August, 1712, without the consent of her father, with whose views in regard to a settlement his son-in-law had refused to comply, Lady Mary married Edward Wortley Montagu, Esq., eldest son of the Hon. Sydney Montagu, and grandson of the first earl of Sandwich. Her letters to Mr. Montagu before their marriage, which have been published entire for the first time in the late complete edition of her works by her great grand-son, the present Lord Wharncliffe, prove that she had already attained much of that sharpness both of style and thought for which her writings are remarkable, as well as a maturity of judgment far beyond her years.

Soon after the accession of George I, Mr. Wortley, who had been for some years in parliament, obtained a sear at the Treasury Board, of which his cousin Charles Montagu, earl of Halifax, had been appointed first commissioner; and from this time Lady Mary resided principally in London, where her wit and beauty immediately acquired her a brilliant reputation. Her husband had long been on terms of intimate friendship with Addison and other eminent literary men of the day, and in that society she moved with the same lustre as in the circles of rank and fashion.

In 1716, Mr. Wortley Montagu was appointed ambassador to the Porte; and in August of that year he set out for Constantinople, accompanied by his wife.They remained abroad till October, 1718, and it was during this absence from her native country that Lady Mary addressed her sister, the countess of Mar, Mr. Pope, and other male and female friends, the celebrated Letters upon which her fame principally rests. The picture of Eastern life and manners given in these letters is admitted by all who have since visited the Levant to be in general as correct as it is clear, lively, and striking; and they abound not only in with and humour, but in a depth and sagacity of remark, conveyed in a style at once flowing and forcible, such as has rarely been produced from a female pen.

Although they were not given to the world during her lifetime, they were evidently written with a view to publication; copies of all of them were preserved by Lady Mary, and some time before her death she presented two complete transcripts of them, then one, in her own handwriting, to the Rev. Benjamin Sowden, minister at Rotterdam, 'to be disposed of as he thinks proper;' the other, in a different hand, to Mr. Molesworth. Both these copies were procured immediately after her death by her daughter, Lady Bute, the first-mentioned having been purchased for the sum of 500l.; but it appeared that a transcript had been previously taken (as Mr. Sowden affirmed, without his knowledge), and from this the Letters were published, in three volumes 12mo., in 1763, the editor, it is said, having been the notorious Captain Cleland. A fourth volume appeared in 1767, composed of letters of which no manuscript is known to exist, but of the authenticity of which no doubt was ever entertained by Lady Mary's family.

As they originally appeared, the Letters were introduced by a 'Preface by a Lady,' and signed M. A., which now turns out to have been written by a person of once considerable literary reputation, Mrs. Mary Astell, the Madonella of the , who was a particular friend of Lady Mary, and who had drawn up the said preface after perusing the Letters in manuscript. The authenticity of the Letters was not considered to be conclusively established till the publication of the first collected edition of Lady Mary's works in 1803, in five volumes 12mo., 'by permission, from her genuine papers,' by Mr. Dallaway, who prefixed to the whole a Life of her ladyship, of very little merit in every respect.

A second edition of this publication appeared in 1817, containing some additional letters; but its value has been since entirely superseded by the publication of 'The Letters and Works of Lady Mary Wortley Montagu,' edited by her great-grandson, Lord Wharncliffe, 2 vols. 8vo., London, 1836, and again in 1837. Besides presenting the letters formerly printed in a much more correct shape, this publication contains several letters and other pieces which had not before been given to the world; but it derives its chief value and interest from a new Life of Lady Mary, modestly entitled 'Biographical Anecdotes' (understood to be from the pen of Lady Louisa Stuart, the only surviving daughter of her daughter Lady Bute), which is as able and spirited as anything Lady Mary herself ever wrote, and must be considered as one of the gems of our literature.

Lady Mary's visit to Turkey, besides producing the Letters, is famous for having been followed by the introduction, through her means, into this country, and thence into the rest of Europe, of the practice of inoculation for the smallpox. Of the next twenty years of her life, which she passed in England, the most memorable incident is her quarrel with Pope, an affair which is involved in considerable mystery, but in which it appears probable that the vanity of the poet was really more to blame than the levity of the lady. During this interval also she composed a considerable quantity of verse, which was handed about in society, and some of which got into print; but she had not much of the poetical temperament, and her rhymes, though not without sprightliness, contained nothing which could ensure them a long life. Among those of her performances in this line of greatest pretension were six satirical sketches, entitled 'Town Eclogues,' which have been often printed; others of her poetical pieces, or that have been generally attributed to her, are in so free a style, as to make it necessary to exclude them from the modern editions of her works.

For reasons, the nature of which is not well known, she again left England in 1739, but this time without her husband, from whom however she seems to have parted on very good terms, although they never met again. She directed her course to Italy, where she lived first on the lake of Iseo, and afterwards at Venice, till 1761, when she was prevailed upon, by the solicitations of her daughter, to return to England. She only survived her return to her native country a few months, dying of a cancer in the breast, on the 21st of August, 1762.







Lady Mary | Works | Resources | Essays | 18th C. Lit



| | |
| --- | --- |
| | |
Site copyright ©1996-2006 Anniina Jokinen. All Rights Reserved.
Page created by Anniina Jokinen on September 7, 2006.




Eighteenth century, eighteenth-century, Early Modern, Woman, women, female, writer, epistolary, author, authors, letters, gentlewoman, gentlewomen, Restoration, English, poet, poetry, literature, poem, poems, England, Britain, British, English, re-enactment, historical, history, SCA, Costume, manuscripts, music, tapestry, illumination, costume, costuming, renaissance, gargoyles, tapestries, jewelry, jewellery, history, historical, festival, writing, books, study, university, college, literature, book, books, scholarship, language, writing, writer, author, wit, sonnet, renfaire, faire, university, study, scholarship, teacher, teaching, book, books, classics, antiquarian, Jacobean, history, tradition, maps, satire, parody, humor, feminism, women's rights, women's literature, women, woman, lady, corset, bustier, wench, renaissance, shoes, health, science, medicine, women's issues, women's studies, luxury, bath, turkish, mediterranean vacation, cruises, italy, venice, greece, turkey