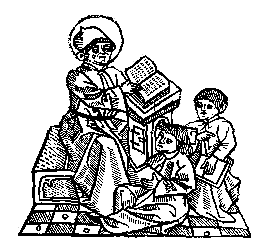 Image through the kind permission of Stephen Reimer
About Luminarium Editions :
Luminarium Editions is a project in conjunction with Luminarium. The object of Luminarium Editions is to make available quality HTML e-texts of Medieval and Renaissance works of literature. These HTML e-texts are made available for free to the public for nonprofit purposes only. These editions are not represented by the publisher as scholarly editions in the peer-reviewed sense. The publisher and general editor of these e-texts is Anniina Jokinen.

Although Luminarium has already web-published numerous individual e-texts of poems and excerpts, it was felt that a repository for full-length texts was desirable. The inspiration for this project was two-fold: firstly, the scarcity of available glossed and/or annotated Medieval and Renaissance e-texts on the web called for such a project; secondly, the publisher was inspired by the remarkable, ever-growing collection of R. S. Bear's Renascence Editions at the University of Oregon.

Unique site content is copyright © 1999-2007 Anniina Jokinen. These e-texts may not be reproduced or published without express written consent from the copyright holder. For corrections, comments, and queries, please email the publisher.


---